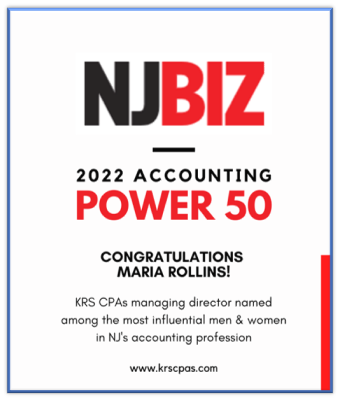 Maria Rollins Named Among NJBIZ Power 50 in Accounting
Last updated on

June 28, 2022
New Jersey, along with the rest of the nation, stands at an economic crossroads, with post-pandemic consequences, inflation, and a possible recession all impacting the state. Businesses are facing new challenges that could get worse as monetary policy changes take hold. Accountants will be the ones sorting out the macroeconomic winds buffeting their clients, but also the response by governments, notes NJBIZ in revealing their Accounting Power 50 list.
So, when your accountant speaks, you should listen, NJBIZ says. The publication has named KRS Managing Partner Maria Rollins, CPA, MST, among NJ's Power 50 accountants to whom one should listen closely.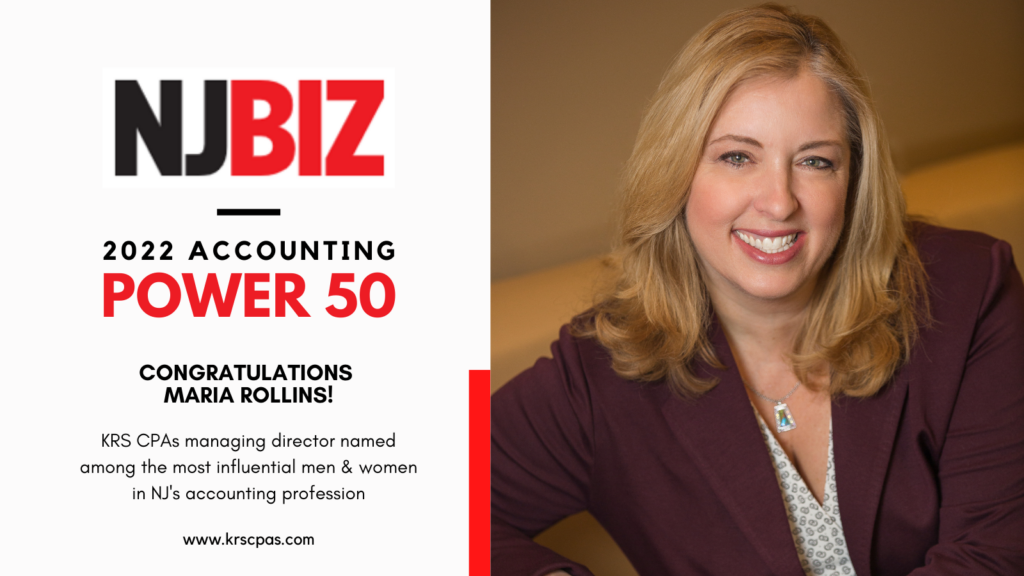 In naming Rollins to the list, NJBIZ notes she "has a well-deserved reputation as an innovator. In 2021 she was named an 'Innovation Leader' by the NJ Society of CPAs."
As one of the state's few female CPA firm founders and managing partners, Rollins has helped develop and implement policies that encourage more women and others to thrive as accountants. Under her guidance, KRS was an early adopter of unlimited paid time off. Rollins says this is essential to attract and retain qualified people.
Embracing change in the work environment
Further, Rollins has been a proponent of remote work, which can save employees the delays and stress of commuting, freeing them to spend more time on client matters. "We've extended it to the point where one employee moved out of state but remained with us," she says. "We recognize the way we work is changing and we embrace it."
The firm's partners and staff know she is the driving force behind KRS's success. "Maria gets everyone moving in the same direction. With Maria at the helm, we've built a firm relentlessly focused on understanding client needs and exceeding their expectations. This has led to our upward trajectory," comments partner Jerry Shanker, CPA/ABV, MST.