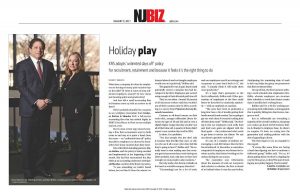 KRS partners Maria Rollins and Jerry Shanker were featured in the January 9, 2017, NJBIZ cover story entitled, "Holiday Play." The article, written by NJBIZ staff reporter Brett Johnson, discusses the new KRS unlimited time off policy that allows employees to choose for themselves how many vacation days they need.
Rollins and Shanker first encountered the idea while at an accounting conference. The appeal of it was, in part, that it could potentially correct a situation that had developed at the firm: Employees just weren't using enough of their allocated paid time off.
They're not alone, writes Johnson. Around 50% of all American workers said they wouldn't use all their vacation time in 2016.
Notes Rollins, "We actually want to start making sure that everyone gets at least more than a week during our slow periods… We want people to take vacations."
Unlimited time off, the article points out, is just one of the policies KRS has instituted to encourage a work-life balance. The firm also utilizes a work schedule that emphasizes flexibility, wherein employees can structure their schedule to work from home certain days or modify their working hours.
Rollins says these policies are a popular for the firm's working parents along with millennials.
Click here to read the complete NJBIZ article.