With all the recent bad weather, be sure you know the new regulations for claiming losses for home and personal property damages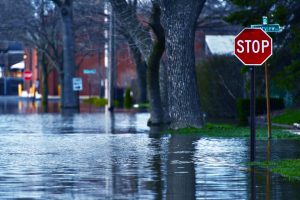 The northeast endured major flooding this past week, which damaged homes and personal property for many individuals. With the recent flash floods and hurricane season upon us, it's crucial to be aware of the changes to casualty losses since the passing of the Tax Cuts Jobs Act (TCJA).
Prior to TCJA, you were able to claim losses related to damages to your home or personal property with certain limitations. As with many other areas of the tax code, TCJA has created new regulations.
For tax years beginning 2018 through 2025, individuals may only claim casualty losses from an event that is deemed a federally declared disaster by the President of the United States or to offset personal casualty gains. The deduction is reduced by $100 and limited to 10 percent of your Adjusted Gross Income (AGI).
Take precautionary measures now
Taxpayers should take preemptive measures to ensure valuable items are accounted for in order to deduct losses and supply insurance providers with accurate documentation. Here are a few tips on how to be prepared when a federally declared disaster occurs:
Be sure you back up your electronic files and store them in a safe place. Making duplicates and keeping them in a separate location is a good business practice. Other options include copying files onto a CD or DVD. Many retail stores sell computer software packages that you can use for recordkeeping.
When choosing a place to keep your important records, convenience to your home should not be your primary concern. A disaster that strikes your home is also likely to affect other facilities nearby, making quick retrieval of your records difficult and maybe even impossible.
Photograph or videotape the contents of your home and/or business, especially items of greater value.
Keep a worksheet for each room of your residence. This will help you recall and prove the market value of items for insurance and casualty loss claims.
Review your current property and casualty policy with your insurance professional to ensure you have adequate coverage.
We've got your back
Flooding, hurricanes, and other severe weather can't be avoided, but the damage that results from them can be minimized with precautionary measures. Contact KRS today with any questions or for advice concerning casualty losses.