Rollins among ROI-NJ's Influencers in the Accounting Industry for a second year.
It was a complicated and interesting year for New Jersey business in 2019, and 2020 promises more of the same, stated ROI-NJ in revealing their Power List 2020.
KRS Managing Partner Maria RolIins, CPA, MST, was named by ROI-NJ as one of the people who will have the biggest influence on everything affecting business in the state.
In naming Rollins to their accounting industry list, ROI noted KRS is a "boutique firm [that] continues to get it done for its clients — and its employees. Rollins, who preaches work-life balance, was thrilled when KRS was named one of the 101 Best & Brightest Companies in the Nation to work for — for the second consecutive year."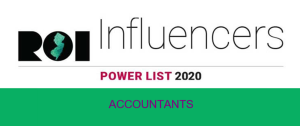 The firm's partners and staff know she is the driving force behind KRS's success. "Maria gets everyone moving in the same direction. With Maria at the helm, we've built a firm relentlessly focused on understanding client needs and exceeding their expectations. This has led to our upward trajectory," comments partner Jerry Shanker, CPA/ABV, MST.
Of the 14 accounting firm CEOs and managing partners on this year's list, Rollins was one of four women managing partners named. She was one of two included in 2019.
Contact us today to learn how Maria and the team at KRS can help your business.