For the sixth year, KRS CPAs wins Accounting Today Best Workplaces Award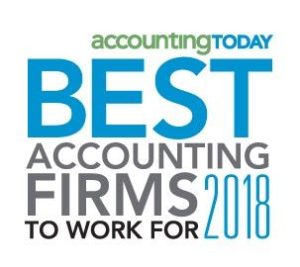 KRS CPAs was named as one of the Accounting Today's 2018 Best Accounting Firms to Work for, ranking 13th among the national award winners. This marks the sixth time the Paramus-based firm has received this prominent award.
"KRS is a growing firm and we offer our employees competitive salaries and many opportunities for them to grow in their careers," says Managing Partner Maria Rollins, CPA, MST. "We're proud of our positive, supportive culture. Our Flexible Work Program enables employees to set their schedule for the work week, as long as they are working the core hours of 10am to 3pm. They can work from home as needed and have unlimited paid time off."
Accounting Today, the leading media and digital resource for public accountants, recognizes the best 100 accounting firms in the United States that excel in their efforts to build quality workplaces for their staff.
In addition to the Best Accounting Firms to Work for awards, KRS has been honored with Inc. magazine's Best Workplaces Award, has received the NJBiz Best Places to Work in New Jersey for multiple years, and has won the NJBIA Award for Excellence for an Outstanding Employer.
For more information about working at KRS CPAs, visit our Careers page and check out our video.