KRS CPAs partner Jerry Shanker has published an article entitled, "Business Sales and Personal Goodwill," in the February 2016 issue of the New Jersey State Bar Association's Business Law Section Newsletter.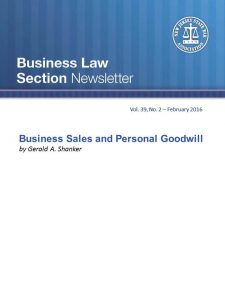 A frequent contributor to the Business Law Newsletter, Shanker discusses the tax aspects of both a stock sale and an asset sale, and when it is appropriate to allocate some of the purchase price to personal goodwill.
Shanker reviews the concept of personal goodwill and notes that it is typically found in three types of businesses: 1) closely held businesses; 2) highly technical, specialized or professional businesses; and 3) businesses with few customers or suppliers. He points out that a key factor in determining whether personal goodwill exists is whether a shareholder has an employment agreement or an non-competition agreement.
To read the complete article, click here.
Also check out these articles by Jerry Shanker:
State Income Tax Issues for Professional Service Firms
Business Divorce, Valuation and the Importance of a Buy-Sell Agreement