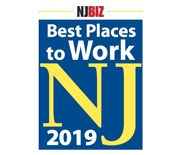 Paramus-based KRS CPAS has been named for the ninth year in a row as one of the NJBIZ Best Places to Work in New Jersey.
"We're proud to be recognized by NJBIZ for creating a positive work environment so our employees can prosper both professionally and personally," said Maria Rollins, CPA, MST, and the firm's managing partner. "It's the ninth time we've been honored and we couldn't be more thrilled."
KRS is known for being responsive and following through for clients. The firm's goal is to make it as easy as possible for clients to get the advice and counsel needed, so they can focus on living their lives and running their businesses.
The NJBIZ Best Places program identifies, recognizes and honors New Jersey's top places of employment that benefit the state's economy, workforce and businesses. The program is made up of 100 companies split into two groups: small/medium companies (15-249 employees) and large companies (250 or more employees). KRS has earned the Best Places to Work in NJ distinction in the small/medium category.
Companies from across New Jersey entered the program's two-part competition to determine the state's 100 Best Places to Work. In Part 1, each company's workplace policies, practices, philosophy, systems, and demographics were evaluated. In Part 2, each company's employees were asked to complete a survey that measured the employee experience. Survey results were worth 75% of a company's total score, and Part 1 and 2 scores were combined to determine New Jersey's top companies and the final ranking.
The rankings of the 100 Best Places to Work in New Jersey will be unveiled at an awards ceremony on Wednesday, May 01, 2019, 5:00 pm – 8:00 pm, iPlay America Event Center, Freehold, NJ.