We are excited to announce we have been honored with the New Jersey Business and Industry Association's 2020 Awards for Excellence.
This year's NJBIA awards acknowledge four executives and 16 companies who have improved the quality of life in New Jersey in outstanding ways. We are one of four Outstanding Employers being honored for creative and forward-looking approaches to HR management. Additional award categories include Executive of the Year, Member of the Year, Community Service, and Diversity & Inclusion.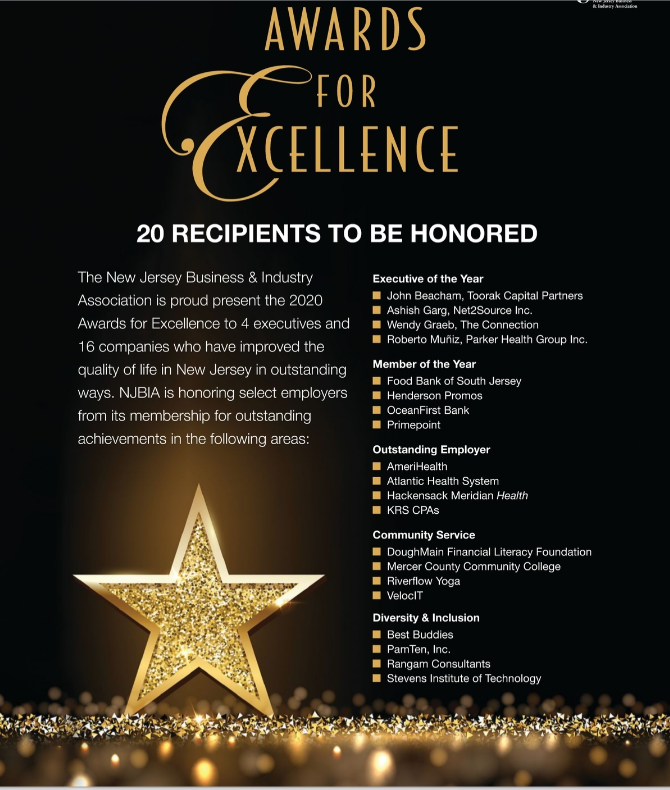 According to NJBIA's award announcement, "KRS CPAs is helping its hard-working employees via its Flexible Work Program, allowing them to create their own schedules, work remotely and even have half-days on summer Fridays. A new system provides employees with complete remote access to their work computers, which is especially helpful to workers with children."
In acknowledging the award, KRS Managing Partner Maria Rollins, CPA, MST notes, "Now more than ever, it's important for us to promote work-life balance with our Flexible Work Program. When our team members can control their own schedules, it boosts everyone's morale and decreases their stress levels. This helps everyone to be productive and engaged, even when we are all working remotely."
KRS has received numerous awards for our HR practices built around employee work-life balance. We have been honored by NJBIZ as one of the Best Places to Work in New Jersey for multiple years, been named one of the Best Firms to Work for by Accounting Today. We have also previously won the NJBIA Award for Excellence as an Outstanding Employer and were acknowledged for Best Practices in leadership by CIANJ and COMMERCE magazine.