Protect your business! Stay ahead of hackers, phishers, and scammers by attending the KRS Insights Breakfast on September 19.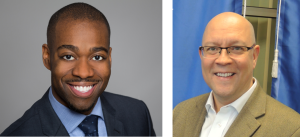 Cybersecurity experts Stanley Louissaint and Melvin Montalvo will discuss the ever-changing cybersecurity landscape and why you must be proactive so your organization doesn't fall prey to malicious actors out to steal your data – and worse.
Stanley and Melvin will review the top security threats and empower you to better navigate and understand cybersecurity.  They will also reveal tactics you can use to arm and protect your organization from attacks.
Stanley Louissaint is the principal and founder of Fluid Designs, a full-service IT services and support services firm focusing on the computer, networking, and application needs of small businesses.
Melvin Montalvo is the USA Channel Sales Manager for Clearswift, a cybersecurity company with a global outreach.  Mr. Montalvo works on technology launches, promotions, and support for the Clearswift suite of products.
This next highly anticipated topic in the KRS CPAs Insights – An Informational Breakfast Series will be held at our office, 80 Route 4 East, Suite 370, Paramus, NJ. Register here
8:00 AM – 8:30 AM Registration and a light breakfast
8:30 AM – 9:30 AM Presentation begins promptly
9:30 AM – 10:00 AM Q&A
Register today. Space is limited and fills up quickly. For more information, please contact Rosi Ventura at 201-655-7411 or [email protected].