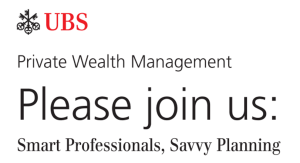 Are you experiencing a life change, such as the birth of a child or death of a parent? Are you getting married or divorced? Are you buying or selling a business? Do you need to plan for retirement?
If you answered "YES!" to any of these questions then you will want to join us for an interactive discussion, hosted by Bianco DeRosa Tolman Post Partners, which can help you strengthen your financial future.
There is no better person than you to take the lead on your future.
When: Thursday, March 14, 6:00pm to 8:00pm
Where: UBS Westfield, 109 N. Ave W, Westfield, NJ 07090
Panelists:
Lauren Mirman, Director, Senior Wealth Strategy Associate, Bianco DeRosa Tolman Post Partners
Angela Titus McEwan, Esq, Trusts & Estates Attorney, Day Pitney LLP
Sheryl J. Seiden, Esq, Family Attorney, Seiden Family Law, LLC
Gerald Shanker, CPA/ABV, KRS CPAs, LLC
RSVP by Friday, March 8: Troy Starrett, Registered Client Service Associate, 212-713-9256 or [email protected]